Boston White Collar Crimes Attorneys Representing Clients Facing State And Federal Charges
While white collar crimes are not violent crimes, they do cost the United States billions of dollars every year. Because white collar crimes typically involve deceptive schemes and tactics and have such an impact on the economy, law enforcement officials, prosecutors, and judges take these crimes very seriously and will punish those who violate these laws accordingly.
That is why those who are facing these kinds of charges must have an experienced Boston white collar crimes lawyer from Toland Law, LLC on their side. When you work with our law firm, we will tenaciously fight for your rights and work diligently to get you the possible outcome for your case.
Our lawyers are respected throughout the legal community and are known for their vast experience and skill level. Because we have helped several clients in the past successfully fight their white collar crime charges, our attorneys have been asked many questions about these charges.
Here are some of the most common questions we have received:
What Are Considered White Collar Crimes?
White collar crimes are criminal acts that take place in government, business, and corporate environments. The "white collar" aspect refers to the kind of people that typically commit these crimes, which include bankers, mortgage companies, business executives, government officials, board members and more.
While there are a variety of crimes that fall under white collar crimes, here are some of the most commonly committed:
Embezzlement
Computer & internet crimes
Corruption
Ponzi Schemes
Identity theft
Forgery
Counterfeiting
Money laundering
Pyramid schemes
Tax evasion
Insider trading
Fraud
Bribery
RICO crimes
And much more
Due to the serious nature of white collar crimes and the level of experience needed to fight these charges, it is important to work with a qualified defense attorney. At Toland Law, LLC, our team is highly trained and will effectively defend you.
Are White Collar Crimes Federal Or State Charges?
In most situations, those who are facing white collar crimes will be prosecuted at the federal level. This is because these crimes typically involve large sums of money being stolen, as well as computer-related tactics used in multiple states to complete these crimes. It should be noted that federal law enforcement officials will have more resources and a higher level of expertise when prosecuting financial crimes of this nature.
There are some circumstances when a white collar crime will be prosecuted at the state level or even at both federal and state levels. That is why it is vital to have a knowledgeable lawyer from Toland Law, LLC who has handled white collar crimes at either level and can properly defend you in any circumstance.
What Are The Penalties For White Collar Crimes?
If you are charged and found guilty of a white collar crime, there are numerous penalties that a defendant may face. These penalties can include:
Fines up to $10,000, and in some cases up to $1 million
Up to 10 years in prison
Community service
Probation
Forfeiture
You may have to pay restitution to your victims
Have your assets seized and sold to repay those you have stolen from
Deportation if you are not a U.S. citizen
In addition to legal penalties, embarrassment and shame, your professional and personal reputation will be affected. You will have a criminal record that will make it difficult to find housing and even limit you from seeking future employment opportunities.
However, an experienced white collar crime lawyer will be able to negotiate a plea agreement on your behalf, find ways to reduce these penalties, and even work with the government to lower the restitution and forfeiture amounts.
Do I Need To Hire An Attorney To Help With My White Collar Crime Charges?
There are some situations where people who are accused of white collar crimes think that if they speak to federal agents and prosecutors without a lawyer, that they may be able to persuade law enforcement officials of their innocence. Sometimes they even feel like hiring a lawyer shows that they are guilty because if they are innocent, then there is nothing to hide, and no attorney is needed.
This is not true AT ALL! You need a lawyer on your side to make sure your rights are defended, and you are not coerced or make any moves that can negatively affect your case.
Law enforcement officials, particularly those who work at the federal level, are well aware that defendants who are charged with white collar crimes will want to consult with a qualified attorney. Remember, every person is innocent until proven guilty and you have the right the speak with a top lawyer before answering questions or making any statements.
Contact An Award-Winning White Collar Crimes Law Firm In Boston, MA To Learn More
If you are facing charges for a white collar crime in Massachusetts, you need to understand that these are very serious charges and will be persecuted to the highest degree. At Toland Law, LLC, we offer federal and state experience and will fight to protect your rights. Our goal is to have your charges dismissed or reduced and we will work diligently to you the best possible outcome for your case.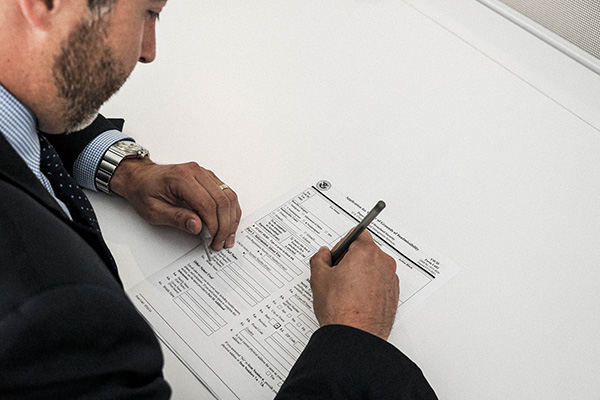 Whether you are charged with embezzlement, identity theft, or any other white collar, when you hire our attorneys, we will thoroughly inspect every aspect of your case and use our skills to find faults in the prosecution's investigations. If a dismissal isn't an option, we will use our skills and experience to negotiate a plea deal that may have the charges and penalties lowered. At Toland Law, LLC, we represent clients in the city of Boston and the surrounding areas and are here for you.
To learn more about your legal options, schedule a consultation with our office by calling (781) 819-3647 or filling out the contact form on our website.