Boston Citizenship Attorneys Helping Clients With The Naturalization Process
Once you are a Legal Permanent Resident (LPR) in the United States and have a Green Card, you are allowed to live freely in this country. However, there are a few issues you will encounter including having to renew your Green Card and needing to obtain a foreign visa whenever you travel. To avoid having to deal with issues, it is best to take the steps needed to become a U.S. citizen.
At Toland Law, LLC, we offer years of experience and have helped many of our former clients with the naturalization process. Here are some frequently asked questions we have been asked in the past:
What Are The Requirements For Naturalization?
If you want to become a U.S. citizen, you will have to go through the naturalization process. To go through with this process, you will have to meet the following requirements:
You must be a permanent resident (i.e. have a Green Card)
You must maintain continuous residence in the U.S.
You must be physically present in the U.S.
You must be able to read, write, and speak English (in most situations)
You must have good moral character
You must have support for the U.S. government and Constitution
How Long Does The U.S. Citizenship Process Take?
The process for becoming a U.S. citizen usually can take about 6 months from the date that your application is submitted. However, due to the long process and multiple steps that must be completed, the process can take much longer, especially if there are any mistakes in paperwork. As one of the best immigration law firms in Boston, we recommend that those who wish to become a U.S. citizen get the process started as soon as possible.
What Are The Benefits Of Becoming A Citizen?
If you are a Green Card holder and wish to maintain permanent residency in the U.S., gaining citizenship is the obvious next step. As a citizen, you will have access to the following benefits:
You can't be deported to your former country
You can travel with a U.S. passport
You have access to federal benefits and government assistance programs
You can apply for a green card for your parents, adult children, or siblings
Your children can automatically become U.S. citizens (no matter where they were born)
You won't have to deal with any immigration paperwork anymore
You can apply for employment with the United States government
You can vote
You can run for elected office
Speak With An Award-Winning Citizenship Law Firm In Boston, Ma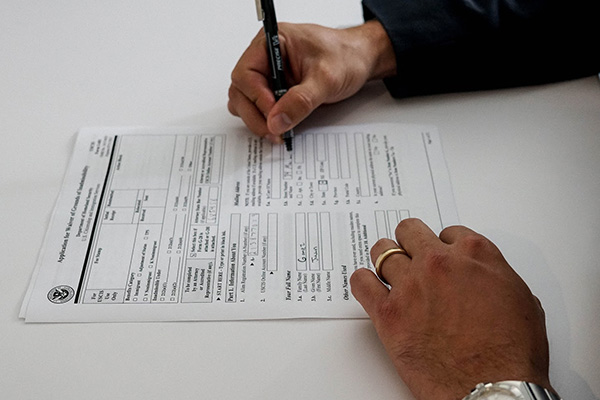 If you want to become a citizen of the United States, you must speak with a qualified immigration attorney in Massachusetts. At Toland Law, LLC, we know how to navigate the complicated immigration system and will do whatever it takes to make the citizenship process as fast as possible for our clients.
To learn more about the naturalization process and how our lawyers can help you, schedule a consultation with our top-rated legal team.
To contact our law office, you can reach us by phone at (781) 819-3647 or fill out the contact form on our website.